Riggs goes big; Indians go to 2-0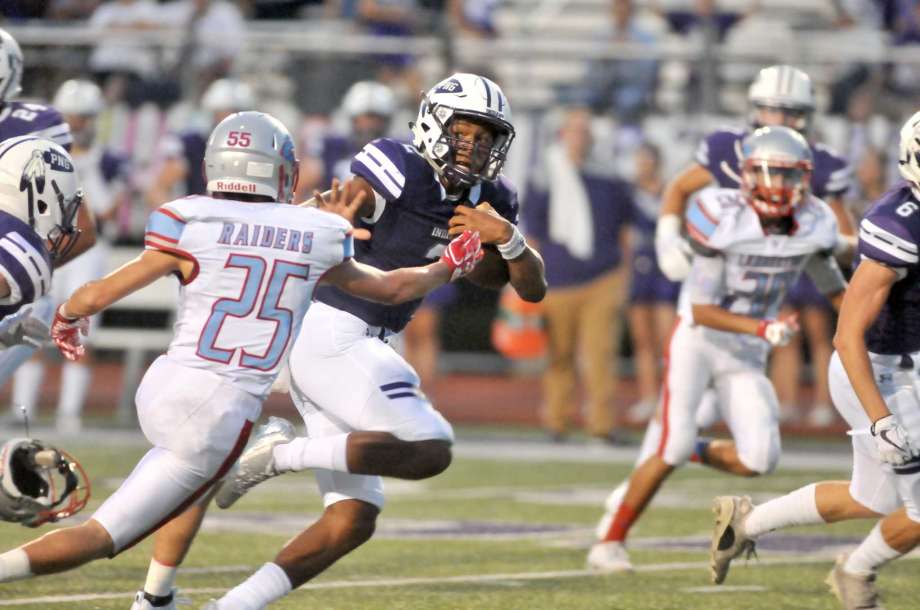 By I.C. Murrell | Port Arthur News
Published 10:48 pm Wednesday, September 20, 2017
PORT NECHES — Just as soon as Roschon Johnson might have earned the nickname "The Finisher," Preston Riggs showed why he's "The Target."
A really dependable one, at that.
"He gets open," Port Neches-Groves coach Brandon Faircloth said. "We design plays for him to help him and Roschon Johnson have a great connection. … He's consistent, and he does a great job."
Riggs scored on two big plays in 2½ minutes early in the third quarter, as PNG pulled away for a 42-0 victory over Lumberton on Wednesday night. Riggs finished with 176 yards on five receptions, almost two weeks after getting 186 yards and three touchdowns in his senior season debut.
He wasn't surprised he scored twice so quickly.
"To be honest, no," Riggs said. "They were pulling down [the defense] really far, so coach Faircloth called a play and I ran it."
Riggs went for 54 yards one play after he dropped a pass near the Lumberton sideline. The very next play after the Raiders punted, he took a catch 86 yards to the end zone.
He credited his senior leadership for a quick start.
Johnson, PNG's acclaimed junior quarterback, scored on the Indians' first three possessions, as they built a 21-0 halftime lead.
Johnson just went about his business Wednesday. Along with 71 yards on nine carries, the University of Texas verbal commit completed 10 of 15 passes for 258 yards, making good on his first five throws.
But Faircloth was tickled to death over his defense. The Indians (2-0, 1-0 in 22-5A) held the Raiders (1-1, 0-1) to 231 total yards, a big improvement from giving up 397 yards to Baytown Sterling.
Camron Abate also returned an interception 8 yards to cap off the scoring, and Alec LeBouef scooped up a pick and returned it 30 yards in the first half.
"We had a lot to things to work on after Baytown Sterling, and they responded the right way," Faircloth said. "They went back to work, they had a great practice defensively, and Lumberton's a good offensive team. To shut them out is a really big accomplishment. We're really proud of those guys."
Sophomore Gavin Deslatte had 67 yards on six carries, all in the first half, with runs of 28 and 13 yards leading to Johnson's 8-yard tote early in the second quarter.
While Deslatte — who saw two playoff games as a freshman — has settled in nicely in the backfield, Preston Hughes has done the same as a receiver while sharing time at running back. Hughes caught a 47-yard pass to the Lumberton 37 during the Indians' third scoring drive, and Johnson scored from 11 yards out six plays later.
Johnson opened the scoring on a 6-yard carry in the first quarter.
The Indians came up with three stops inside their own red zone. Early in the second quarter, LeBouef got his pick after Khaleb Taylor made a hit on the intended receiver and returned it 30 yards to his own 45. That led to the second scoring drive.
Lumberton senior Josh Ward, who had 14 carries for 63 yards, was stopped for a 1-yard loss back to the PNG 14 on fourth-and-3 on the ensuing drive.
PNG protected its shutout bid after a 26-yard field goal attempt by Lumberton sailed wide right. That came two plays after Taylor broke up a pass in the end zone.
The Indians are off during the Sept. 26 slate of games and will return to action Oct. 2 at Livingston.
"It's not really an off-week when you have to play the great teams we have to play," Faircloth said. "We don't have a game until next Monday, so we've got to go back to work and spend some time getting better.
"We have a long way to go. We have things we have to continue to work on. We need a week of practice, absolutely."
Source: http://www.panews.com/2017/09/20/riggs-goes-big-indians-go-to-2-0/

Indians 42, Raiders 0
Lumberton 0 0 0 0 — 0
PNG 7 14 21 0 — 42
First quarter
PNG — Roschon Johnson 6 run (Landon Sandell kick), 5:05
Second quarter
PNG — Johnson 8 run (Sandell kick), 8:29
PNG — Johnson 11 run (Sandell kick), 2:12
Third quarter
PNG — Preston Riggs 54 pass from Johnson (Sandell kick), 11:29
PNG — Riggs 86 pass from Johnson (Sandell kick), 9:03
PNG — Camron Abate 8 interception return (Sandell kick), 8:19
Lum Ned
First downs 10 11
Rushes-yards 40-125 25-201
Passing yards 106 258
Total yards 231 459
Comp-Att-Int 7-17-2 10-15-0
Fumbles-lost 0-0 0-0
Penalties-yards 2-11 8-50
Individual leaders
RUSHING: Lum — Josh Ward 14-63, Justin Conway 11-20, Jace Bridges 8-15; PNG — Jose Ceja 9-71, Johnson 8-68, Deslatte 6-67.
PASSING: Lum — Bridges 7-16-2, 106. PNG — Johnson 10-15-0, 258.
RECEIVING: Lum — Kaleb Karr 4-93, Ward 2-12. PNG — Riggs 5-176, Preston Hughes 2-56, Holden Lane 1-14.